With pride and pleasure I want to talk to you about this super experience! Because finally, after years spent in Canada, my adventure partner Davide and I managed to create the first International Soccer Camp in a Canadian college, more precisely the Ridley College in St. Catharines, in the Ontario region, just a few kilometers away from Toronto.
There are only three schools in North America, if we count the two American ones, to have it … Now in Toronto as well, the off-limits doors of a real American College will open to boys and girls from all over the world (and therefore also Italian!) , just like the ones you see in the movies!
Real cities in the cities: with residential structures, schools, recreational facilities and state-of-the-art sports facilities where you can live the entire school year … From this Summer it will be accessible to all teenagers interested in an overseas experience of football, culture, social life and improvement of the English language that for us in Italy is always hard to swallow!
THE IDEA:

Summer has always been the best time of the year for youngsters to have new experiences, learn about new realities and meet new people; for this reason the Ridley College Summer Programmes offers already since years the possibility of doing many sports activities, designed to develop the mind and the body of every boy. Hence the desire to include 2 weeks of football specialization among the various "addresses" of the activities: so the ADVANCED PERFORMANCE SOCCER CAMP was born, dedicated to boys and girls aged 12 to 16 years. This year it has been scheduled from the 8th to the 12th of July and from the 15th to the 19th of July.
.
THE QUOTE
…"We shall not cease from exploration, and the end of all our exploring will be to arrive where we started and know the place for the first time."… (T. S. Eliot)
THE COLLEGE: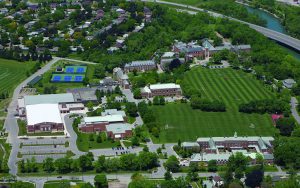 The Ridley College,one of the oldest educational facilities in North America, was founded in 1889 and is located in Ontario (Canada), specifically in the Niagara region 100 km south of Toronto, on the southern shore of Lake Ontario.
It can accommodate up to 700 students from 63 countries around the world who live the school year within the college facilities; a small city equipped with every service and comfort, in fact inside there are – in addition to the residential and school facilities – also two canteens, two theatres, a church, a bookshop, a cinema and multiple sports facilities including an indoor pool, a hockey arena, a sports hall, a gym, a dance hall, a squash court and some outdoor ones as well: six tennis courts, four basketball courts, four soccer fields, two American football fields, one five-a-side football field… All strictly in natural grass!

THE INTERNATIONAL SOCCER CAMP:
The Advanced Performance Soccer Camp is the most important event in the Niagara region and is absolute news for Ridley, who has decided to invest in Italian UEFA coaches for this new and exciting adventure! All boys and girls aged between 12 and 16 who will enter the college life can participate to the full immersion two weeks.
In addition to the field work where the Technical Director Davide Massafra with me, Federico Turriziani – who are the Boys Director and Head Coach – will develop a programme aimed at improving the individual player, there will be many other activities that, under the control of the Summer Programmes Manager, Milana Schramm, will allow boys and girls to enter the culture of a true Canadian college.
English lessons, social dinners, trips to Toronto, Niagara Falls and water amusement parks, without forgetting the attendance to a Toronto FC match (MLS team), plus a Hockey and a Basketball one! And to top it off, a nice beach party with barbecue and lots of music!
If I have intrigued you enough … You can find out much more by visiting the College website www.ridleycollege.com, and if you want more information or want to know how to participate, you can contact me directly at the references you find below!
LE COORDINATE DELL'AP SOCCER CAMP: 
FOR WHOM? Boys and girls aged 12 to 16
WHEN? From the 7th to the 20th of July 2019 (Advanced Performance Soccer Camp)
WHERE? Ridley College – 2 Ridley Rd, St. Catharines, ON L2R 7C3, Canada
INFO & REGISTRATION (all dates and activities): Federico Turriziani mailto:federico@socceroad.com
THE TYPICAL DAY:
7:30 am – 8:30 am – ALARM AND BREAKFAST
8:30am – 9:00am – GETTING READY IN THE LOCKER ROOMS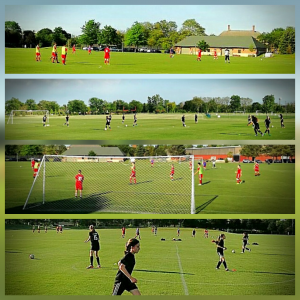 9:00 am – 9:15 am – TECHNICAL MEETING
9:15 am – 10:15 am – TRAINING SESSION
10:15 am – 10:30 am – RECREATION
10:30 am – 11:45 am – TACTICAL WORK IN THE FIELD
11:45 am – 12:30 pm – LUNCH
12:30 pm – 1:15 pm – NUTRITION CLASSES AND VIDEO ANALYSIS
1:15 pm – 2:15 pm – POOL
2:15 pm – 2:30 pm – SNACK
2:30 pm – 3:15 pm – INDIVIDUAL PHYSICAL & TECHNICAL TRAINING
3:15 pm – 4:00 pm – THEME MATCHES AND TOURNAMENTS
4:00 pm – 5:00 pm – SPARE TIME
5:00 pm – 6:00 pm – DINNER
6:00 pm – 9:00 pm – EXCURSIONS AND ACTIVITIES
9:00 pm – 10:00 pm – SPARE TIME
10:00 pm – RETURN TO ROOMS
10:30 pm – LIGHTS OFF
OTHER SUMMER OPTIONS 2019:
But the Ridley is not just football !!! In fact, at the same time, the offer includes many other activities just to satisfy every request, here there are other options to choose from:
| | | |
| --- | --- | --- |
| Typology | Age range | When |
| English Camp Experience | 9-17 | 7-20 Luglio , 28luglio- 10Agosto, 11-24 Agosto |
| Discover Canada Experience | 9-15 | 7-20 Luglio , 28luglio- 10Agosto, 11-24 Agosto |
| Enrichment Classes | 13-17 | 11-24 Agosto |
| English Immersion Experience | 9-15 | 7-27 Luglio, 28 Luglio -17 Agosto |
| Canadian Art Experience | 9-16 | 11-24 Agosto |
| Hockey Camp | 9-13 | 11-24 Agosto |
| Leadeship Training | 14-17 | 7-20 Luglio , 28luglio- 10Agosto, 11-24 Agosto |
| Music and symphony Experience | 11-15 | 14-27 Luglio |
| AP SOCCER CAMP | 12-16 | 7-20 Luglio |
FOR MORE INFORMATION AND REGISTRATION:

Would you like to know more about this summer's study holiday or are you thinking of spending a whole school year abroad? Whatever are your ideas and needs contact me! For how to participate, any costs and for all you want to know about the 'Ridley world' write me an e-mail, without obligations of course;)
You can send it to mailto:federico@socceroad.com and I will answer all your requests!
Here below is the Ridley College Virtual Tour!!!