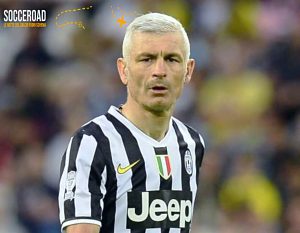 There are many characters that have left their mark in the world of football, but the protagonist that Socceroad meets today has a unique story made up of sacrifices and desire, determined by a great will power and that humility that only a few have.
Fabrizio Ravanelli has come a long way, in the beginning his path was characterized by hitchhiking and long walks to go to train with the youth sector of A.C. Perugia; his journey is now known, but today I met him to relive those emotions through his words and to discover other moments of his life and career.
It's an autumn morning, sun rays get through the haze and illuminate the orange leaves fallen to the ground; Fabrizio gets out of the car, he's in great physical shape! Cap, sunglasses and his unmistakable walk; a good coffee before starting a nice and exciting chat.
"I built my career brick by brick, aware of my strength, and I'm proud to have played in all the categories: from Serie C2 to Serie A, right up to the national team! Among other things, together with Rubino from Novara, I'm the player who played with the same jersey (Perugia) in all the professional categories. "
From Perugia to Juventus the jump is huge, what do you remember about that?
"When I went to Juventus I was ready to give all of myself to take advantage of that unique opportunity but there was also the fear that I couldn't measure up, that i wouldn't be able to be together with those champions".
THE QUOTE
…"Being a quality soccer player and making sacrifices is not enough to become a great champion! You must compete in every training, not just on Sunday games, and have a regular life made of affections , trying to improve yourself day after day"…!
What did it mean to be a Juventus player?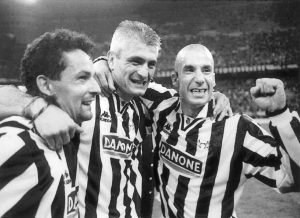 "Juve is a school of life and it still is today for me, as its ambassador in the world; in black and white I grew a lot and for me every day spent there was like realizing a dream … A dream each day!".
Many champions in that Juventus …
"There were so many great guys: Gianluca Vialli was my favorite soccer player, my idol and it was great to find him in the locker room just 2 places away from me. Then he became my roommate and with him I shared so many emotions, so many expectations including the night of the Champions League final; I didn't sleep for the previous 15 days and also for the 15 following that historic game !!! ".
It's the 13th minute of AJax – Juventus, the 1996 Champions League final, when Frank De Boer misses his header, the ball goes in the air and Van Der Sar gets out of the goal… The action seems over but Fabrizio Ravanelli appears from nowhere and with his left anticipates everyone bringing the ball towards the goal line. Everyone expects a cross in the centre but Fabrizio instead shoots with his right, not really his foot, from an impossible position … The ball goes towards the goal , Silooy tries a desperate slide to reach it… But the ball gets in, a crazy goal by Fabrizio, a historic goal, he immediately realizes it and starts to run with his arms wide as if to hug everyone and then puts the jersey over his head.
What did that Juventus have?
"It certainly had so much quality but this alone is not enough to win important trophies, it takes great personality and continuity, intended as the ability to keep performances high during every game, both qualitatively and mentally".
Socceroad usually tells stories about experiences abroad… You have been a pioneer in this regard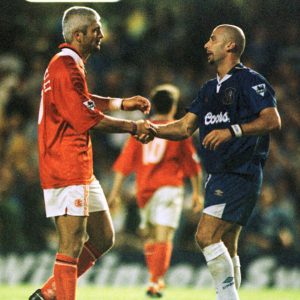 "Yes, I was among the first to go and play abroad, together with Vialli and Di Canio. The experience in England was crucial not only from a footballing point of view. Both for me and for my family it was an important moment of growth at Middlesbrough: from the language to driving on the right, going through shopping and finding olive oil in pharmacies, all little everyday things that didn't exist at Juventus considering the level of organization of the Club. Then the structures: English football wasn't like today, there were modest training fields, but I already knew and I had expected that it would become the top European championship from there shortly … Also thanks to my advice the club improved its structure but in the meantime I had already landed in Marseille".
The differences between England and France at that time
"In France there was the habit of working less on a physical level than in Italy, in England instead they were ahead from the point of view of players' food management; today everything is leveled and all the top league clubs of the various European countries are managed in a similar way, what changes is the culture of the supporters and the way of living the games and the week ".
The comeback to Italy with Lazio coincided with the Biancoceleste championship won in a strange way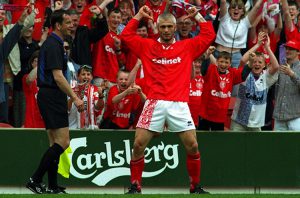 "It was an unexpected joy, no one imagined that my Juve lost with "my " Perugia in that historic game under the Curi storm; football is strange and sometimes is made of incredible crossings and tangles of past and present emotions which are unique. Also the goal I scored against Juventus with Perugia was particular: it took us to the play-off against Fiorentina (Serie B team) and I also remember playing with Gheddafi, another special memory of my career ".
The biggest regret?
"Having missed the 1998 World Cup in France! I had conquered a place in the team, I deserved it, but a bronchopneumonia cut me out of the party and Enrico Chiesa took my place. They were ugly months also because I had been infected by my son! ".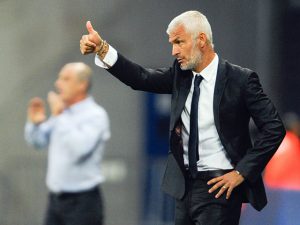 What about Fabrizio as a coach?
"I think that today teams train too much: I believe that physical and mental recovery is as important as field work, even more; I haven't been lucky in my experiences as a first team coach so far, two situations where the club has been missing! I know what it means to have a serious club because I had the honor of growing up in Juventus, which is the best and I owe it so much! ".
How do you become Fabrizio Ravanelli?
"Having quality and making sacrifices is not enough, to become a great footballer you have to know how to compete everyday in training and not just on Sunday at the game, fundamental is to have a regular life made of affections and to try to improve yourself day after day by never giving up when faced with negative moments ".
… And the future?
"I am waiting to find a bench suitable for me, with a club that has ambitions of growth; meanwhile, as I said, I continue to bring up the name of Juventus around the world, I already have trips planned for the next few months ".
From Perugino to Perugino it was a nice chat, Fabrizio is very attached both to his homeland and to his roots, proud to have been one of the most loved footballers also in his Perugia, of which he carries the Grifo tattooed on his arm.
A breakfast that has brought everyone back to the past, to 90s football made up of champions and real men! Like the songs, even the myths of the youth coincide with memories and with many moments that have carved the path of each one of us. Fabrizio is one of these, one who beyond the football faith, was admired and well liked by everyone, taken as an example and who is still considered an icon so much to deserve the role of ambassador of Juventus FC, as well as being part of the 51 Juventus stars of all time … It's no coincidence having these honors as it's no coincidence to win the Champions League, Uefa Cup, Serie A Championships and much more, including a Military World Cup of which Fabrizio is proud!

A special quote to my friend Devid, who was present with me at this meeting with Ravanelli, and as a great Juventus fan he got so excited that in the final hug between them I could see 20 years of emotion and infinite gratitude emerge… Something that only someone like Fabrizio has been able to give to everyone and will surely keep on giving!
FABRIZIO RAVANELLI'S COORDINATES:
Fabrizio Ravanelli (Perugia, 11th December 1968) is a football coach and former Italian footballer.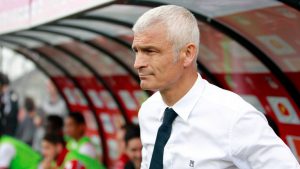 PALMARES:
• 2 SERIE A CHAMPIONSHIPS (Juventus 1994/1995, Lazio 1999/2000)
• 1 CHAMPIONS LEAGUE (Juventus 1995/1996)
• 1 UEFA CUP (Juventus 1992/1993)
• 2 ITALIAN SUPERCUP (Juventus 1995, Lazio 2000)
• 2 ITALIAN CUP (Juventus 1994/1995, Lazio 1999/2000)
• 1 SERIE C2 CHAMPIONSHIP (Perugia 1987/1988)
• 1 MILITARY WORLD CHAMPIONSHIP
• SERIE A: 153 APPEARANCES – 51 GOALS
• ITALIAN NATIONAL TEAM: 22 APPEARANCES – 8 GOALS
Follow Fabrizio on his new account Instagram @fabrizio.ravanelli11