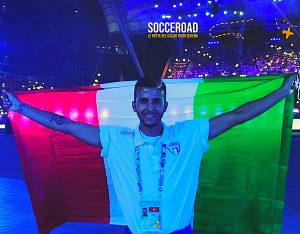 He had the air of being a predestined when, trained by Stramaccioni, he lit up the game of Roma's youth team for 7 years, winning two championship titles; with him there were other boys and friends, who then made their way in the football that counts up to the national team: Florenzi, Bertolacci, Crescenzi, Viviani, Montini … All the 1991-92 year that made its way to play in Serie A.
A character to be discovered, a boy who, although very young, already has many adventures to tell and an enviable wealth of experiences. His name is Matteo Faiola and he's at SOCCEROAD to tell us about all the stages of his journey.
To tell the truth Matteo experienced the feeling of the National team just 2 years ago, when he was chosen to take part in the expedition of the Italian university team at the Taipei Universiade.
Anyway, first things first! Among Matteo's most recurring words there is "hurry" and like in all careers there are steps and choices that can change a destiny, crossroads that can lead you up or into blind alleys.
"I must admit that the desire to skip steps was then a negative factor in the course of my career."
Leaving AS Roma too early, deciding to go outright to Brescia, was the first unhappy step of his journey…
"I immediately missed Rome and the AS Roma environment, but I wanted to play in the first team and avoid loans to minor category teams, but in Brescia for the first time out of my context I struggled to impose myself as I would have liked".
THE FACT
…"choosing the fastest way has always led me to have a downturn. We are what we think. Everything we are arises from our thoughts. Our thoughts build the world….!".
Then the move to Verona in Serie C1
"It was a team built to win the championship with great players like Rafael and Jorginho, who was also my flatmate. I was young, I collected just one appearance, but the most incredible thing was the "sports suicide" we committed when we were 21 points ahead and we lost them all in favour of Portogruaro who won the championship, and then we also got out of the Play Offs against Pescara ".
That ugly sports page in Verona has also changed your career, an angry place with a reputation for revenge that focused even more on experienced players at the expense of the younger ones..
"They told me clearly that I wouldn't be in the starting 11, but I refused every loan in Serie C, I wanted to play continuously, because I trusted my means and believed in myself! So I terminated the contract and went to play in Serie D near home… With Cynthia 1920 ".
The mental backlash, however, was hard…
"Mentally I was fragile and disappointed: this also brought a series of small physical problems which affected that period of my life! A football player must be mentally well in the first place".
Then the Lavagnese, a beautiful season and a new chance
"Yup! Sentimentally I'm very attached to Genoa and Liguria. This experience allowed me to get back to the football that counts, in fact I went to Locarno in the Swiss Challenge League with Mr. Maccoppi; it was a great experience on a personal level, in a different environment where the way of experiencing football was different. From the after match with the other team, to the beer with the fans after the game … All things that opened my mind and gave birth to the desire to explore other countries, signing contracts year by year ".
Said and done … The landing at Mosta FC in Malta arrives
"I found a great coach: Danilo Doncic, now in charge of the Valletta team, who focused a lot on me; despite the turnover given by the rules about foreign players, I carved out a nice space that brought me the big jump in England: at Newcastle! As a matter of fact, a former player of the team, Pop Robson, made me go for a short trial period… It went well, I signed a 2 years contract with the U23 team and I trained steadily with the first team".
Matteo on the threshold of the Premier League…
"Unique experience, unique city, and the best fans of England. A real dream, I felt a bit like Santiago Munez in the movie "Goal" with less luck, unfortunately. In fact, having turned 23 in February, I had to leave the team to go on loan in League Two, where at the best I got injured… Rupture of the cruciate, collateral and meniscus! A long and tortuous ordeal began, the biggest hurdle to overcome for a football player".
Here another crossroad in your story…
"I refused to have myself operated in Barcelona, I wanted to go to Rome to Villa Stuart and stay at home, and this cost me the termination with Newcastle… The greatest irony was then a complication during the first operation that forced me to stay out not only 8 months, but more than a year and a half, a lifetime in football terms".
It wasn't easy then to start again, but a surprise was in store for you…
""It was very tough, I have to thank all the staff of the Kine4Sport guys – Mauro Auciello and Mario Ciarnella above all! – who put me back on my feet and gave me the chance to start a second life after the injury. Just when I was waiting to figure out where to start from, I received the call to become part of the National University team … It was pure coincidence because two days before the Universiade start a football player had to give up and I was called in his place, I was definitely far from my best shape but I couldn't pass on a chance like that".
What kind of experience was that of Taipei?
"Unexplicable, stratospheric. Despite not being able to have an impact as much as I wanted to, I played 4 matches with the number 10 jersey of the Italian National team … A very thrilling thing! I was roommate with Rossini, current Carpi goalkeeper, and we got out of the competition the quarter-finals against Japan who then won the gold medal: it was a team that had been training only for that event since 2 years and was made of very strong players that today play in the J1 Leaugue and the Japanese National team". Beyond the camp there was the beauty and the pleasure of living the Olympic village and Casa Italia: for me and my mates it was magical, it allowed us to grow and experience fantastic moments discovering the sacrifices an athlete is willing to make and celebrating the medals that day by day were won by our Italian colleagues in other sports!".
Let's get to the last exploration steps
"After the Taipei experience, I spent a few months in the ranks of Olimpia Prague, in another beautiful city. Then I went back to England, now my second home, at Darlington in the National Conference Division; it was like finding myself again both physically and mentally, finally playing 31 games and scoring 10 goals! As in other moments of my life, however, because of the desire to make up for lost time, I decided to change direction but it wasn't a happy choice: in fact in Romania I ended up in an important club that had fiscal problems, and shortly afterwards was demoted. Having signed a contract I couldn't play anywhere else for a few months, during which I only trained".
I know the story well from now on, right?
"I really think so! Thanks to Federico Turriziani and the desire for Serie A, I landed in Canada in the ranks of York 9 FC, a team based in Toronto that played in the new Canadian Premier League! They were 6 very nice months, and only due to visa problems I couldn't stay longer … I met a different football, where we trained at 6 am, and saw a very fascinating and multicultural city!".
Just in Toronto, as in the UK, you continued your journey as an instructor / coach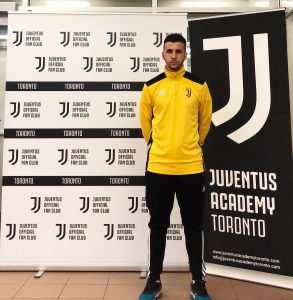 "I met Matteo Masucci, at the time Technical Director of the Juventus Academy Toronto, who after meeting me gave me an opportunity as U15 coach … So I started with him and there I met the former Chelsea player Alexander James Oprey, who was part of the staff. With him an important and strong friendship was created, bonded by the footballing experiences in England and the way of understanding football. A romantic kind of football. So I decided to follow him also to Miami and Colombia … And it's also with him and thanks to his experience that I opened my eyes to different things, and I realized that maybe it was time to change perspective, and to stop living football as a routine in search of success beyond everything. From there, I was about to start my second football life".

…Tell us everything
"In about a month the new project called Prospect Football Coaching will start. Together with my partner Andrea Rossi, who will physically give the entire organization a home at the Amico sports center, we'll open a new male and female academy on Via Pontina, that connects Rome to Latina; I'll make available all my experiences acquired around the world together with those of Alex Oprey who is now the technical director of Inter Academy Toronto, with whom we'll have a direct partnership. It'll be a 360 ° football, made not only of technique and tactics, but we'll also work on the mental aspect, on the character of every boy and girl. The word 'Prospect' in English, in fact, has more meanings: perspective to give an objective to everyone and at the same time it also means hope, which is fueled by the training course that we're going to offer and develop".
What are the goals set?
"The main objective is to highlight the Football-Education combination! Football, as a mean of choosing who you want to become. We want to give a real opportunity to boys and girls to find themselves, we want to follow them on their sports and life path. We'll start to work to make them feel confident about themselves, which today is not easy, focusing on the growth of their personal self-esteem and believing in everyday work as a way to achieve the goals set. With six fields of grass and accommodation facilities available, the kids will be followed in and out of the field, for example after school by trained tutors. To give internationalization to the project the English language will be a must: with the afternoon study of the subject and also during trainings with the use of technical terminology".
SOCCEROAD will be present at the inauguration to tell everything about this revolutionary project!
Matteo's story is constantly evolving, even though it's already full of twists, successes and failures; it's alright to fall but always stand up again! For those who love life and want to make a job out of this sport, they must know the many risks and dark moments that belong to it. It's exactly from troubles that may come up unbelievable encounters and life lessons, the ones that help you to grow and that shape you along the way, and maybe in the end … Everything will make sense: as it happened to Matteo!
The appointment with Matteo Faiola is therefore marked on the agenda: we will visit him very soon to see him dealing with his new project … For now, a great good luck, even for the upcoming graduation !!!
See you soon

MATTEO FAIOLA'S COORDINATES::
Matteo Faiola, 02/29/1992 Sezze (LT), is an Italian footballer and UEFA B coach
4 APPEARANCES IN THE NATIONAL UNIVERSITY – TAIPEI UNIVERSIADI
| | | |
| --- | --- | --- |
| YEAR | CLUB | CATEGORY |
| 2004/2009 | ROMA | SETTORE GIOVANILE |
| 2009/2010 | BRESCIA | PRIMAVERA |
| Jan 2010 | HELLAS VERONA | SERIE C1 |
| 2010/2011 | CYNTHIA | SERIE D |
| 2011/2012 | LAVAGNESE | SERIE D |
| 2012/2013 | LOCARNO FC | SERIE B SVIZZERA |
| 2013/2014 | MOSTA | PREMIER LEAGUE – MALTA |
| 2014/2015 | NEWCASTLE UNITED | U23 – INGHILTERRA |
| Feb 2015 | HARTLEPOOL | LEAGUE TWO – INGHILTERRA |
| 2015/2016 | HARTLEPOOL | LEAGUE TWO – INGHILTERRA |
| 2016/2017 | OLIMPIA PRAGA | SERIE B – REPUBBLICA CECA |
| 2017/2018 | DARLINGTON FC | NATIONAL LEAGUE – INGHILTERRA |
| 2018/2019 | FORESTA SUCEAVA | SERIE B – ROMANIA |
| 2019 | YORK 9 FC | PREMIER LEAGUE – CANADA |