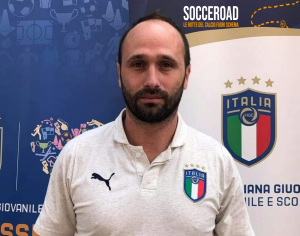 Football belongs to everyone and knows no boundaries: just a bit of space, a ball and you're good to go! SOCCEROAD today wants to share with you a different kind of football, in a place famous only as a nature paradise, synonym of relaxation, getaways and desire for unforgettable holidays: the Maldives islands.
The character who today dives with us into the Indian Ocean is Fabio Crespo, an old-time friend who, like me, is walking his way in the sports world, a bumpy and winding road that, however, offers truly unique experiences.
Through his words we head to the Maldives, discovering life on the islands, what football means there and what are the projects that Fabio carries out in those wonderful atolls.
"I started out as a coach and I feel I can give a lot on the pitch with youth; I currently train 15-16 years old kids and I'm the affiliations and training manager of the Torino Calcio FC Academy. It's a role of responsibility but very fascinating at the same time, and it allows me to have important experiences and discover always new places, cultures and realities ".
Your journey was important and itinerant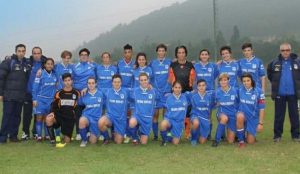 "I started at the age of 25 in the amateur youth sector of Torino, then through training camps I got in touch with Parma, and they wanted me in their coaching staff: it was my stepping stone in the world of professionals. My training path continued with women's football for three years, before moving to Siena where I had two beautiful years under the guidance of Simone Gasperini, covering the position of Manager for Northern Italy, but then Siena went bankrupt".
THE FACT
…"I saw children having fun with stones and puddles, building something with what they had at hand … I believe that technology has brought comfort and well-being but it has taken away creativity and desire to sacrifice!".
So the way back to Torino always in football
"In Marco Ferrante's academy, a former professional footballer, I had two intense and satisfying years and then I arrived at the Torino FC Academy, where I still am and with very good results."
Another satisfaction of yours is "cognitive individual"
"Exactly! It's a program that I have created over time and which I'm now about to export: my working model is not the classic individual technical training, instead I'm going to work on a cognitive level. I associate various experiences that I've had during my career to get to create the "Footballer Diary".
Which is the main objective?
"By collecting all the data and filling out a specific monthly schedule, I'm going to create a working model in the field that tries to improve everything, and I say everything, that emerges in deficit; there are scientific, technical and personal data that allow the definition of a personalized prospect to bring each athlete as close as possible to the top in each parameter. The results already exist, considering that I'll bring this methodology – of which I'm very proud – to Sydney, Vancouver and, as a matter of fact, to the Maldives ".
Yeah … The Maldives! Tell us everything about this famous but at the same time unknown place!
"I managed to make contact to bring the Torino FC Academy to have an affiliation with the HSS Maldives; then I started going on site personally, for 2 weeks of training and to study the football situation, getting some knowledge of the local reality ".
The Republic of Maldives is an island nation of about 350k inhabitants made up of a group of atolls located in the Indian Ocean. The archipelago consists in 1,192 coral islands resting on bases of limestone and coral rock, formed with periodic evolutions starting from about 60 million years ago, following the emersion of imposing mountains from the bottom of the Indian Ocean. There are 26 natural atolls, each consisting of several hundred islands, of which only a few are inhabited. In the entire archipelago, the inhabited islands are about 200, while just over 100 are used as tourist villages.
What differences did you find between the two football worlds?
"Unlike us, they still have a great desire and hunger for football there: most of the people are poor and therefore the level of the trainers is also low, but the availability they give and the attention they pay is incredible! My brother Daniel accompanied me, responsible for the physical and coordination part, and we were truly impressed by the respect that everyone had towards us, even in accepting football suggestions difficult to understand !!! ".
What idea did you have on this type of approach to football?
"In them I see myself as a child, when without a computer or a phone I was on the street playing with what I found … I saw children having fun with stones and puddles, building something with what they had at hand … I believe that technology has brought comfort and well-being but it has taken away creativity and desire to sacrifice. "
From the point of view of facilities and timetables?
"Each island has its own facility which is still good to work, but the few synthetic pitches are super full and exploited, not only by football but by all sports and also by other activities, such as military training or cultural events. The spaces are not many also because of the conformation of the territory, but you can still do a good job! Unusual is the training time, for older children (boys aged 12 to 17) is from 6.30 to 9 in the morning … Before going to school! ".
What can you tell us about the capital Malè and the tourist atolls?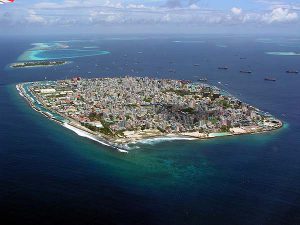 "Malè is a small town (105,000 inhabitants) that stands on the atoll of the same name. In 30 minutes on foot you cross the city: you feel a bit of poverty and degradation in certain neighborhoods but people are really welcoming! Much of the city thrives on commerce and tourism thanks to the airport and the port. I saw tuna over 1.5 meters long, mango and real coconut … the one that's yellow inside!  Tourist atolls are micro islands where there are fine white sand beaches and huts, identical to the images we all have before our eyes! Magical places that contrast with the life of the local population as if tourism and normal life are two parallel worlds that coexist ".
Local food and customs?
"Rice, fish and spicy food are the basics of Maldivian cuisine but the thing that has impressed me the most is the consumption of tea! There are at least three tea breaks throughout the day: at 10.30am, at 3pm and finally at 6pm. Each time we stop for 45 minutes and have tea with typical sweets made of rice and batter ".
Fabio's future goals?
"In April I'll return to the Maldives for the second appointment and the idea is to carry on and increase this project which is very stimulating and rewarding for me! Then one day I would like to get to train in some Italian or foreign professional club, also in the youth sector ".
Fabio's work and humility are his trump card, because in addition to his professional skills, he always manages to bring out the best in all the situations in which he finds himself working, and this is an important and never obvious factor. His story is fascinating and we'll certainly hear more and more about him, because a tea in the Maldives doesn't happen everyday and because SOCCEROAD believes that, in the end, professionals like him will get what they deserve … Good luck Fabio!
… "The biggest thank you is for my family and my partner, who have always supported me and continue to do so unconditionally … All of them, together with my daughters, are my life, they are my strength!".
Follow Fabio and his soccer adventures on socials!  
FABIO CRESPO'S COORDINATES:
Fabio Crespo was born on the 03/08/1983 in Turin, UEFA B football coach and Head of Training and Affiliation Project.
–  women's football manager at FIGC Piedmont and Valle d'Aosta.
| | | |
| --- | --- | --- |
| YEAR | CLUB | POSITION COVERED |
| | | |
| 2017/2019 | TORINO FC ACADEMY | HEAD OF TRAINING AND AFFILIATION PROJECT |
| 2015/2016 | ASD MARCO FERRANTE | YOUTH SECTOR COACH |
| 2014/2015 | MUSIELLO SALUZZO WOMEN | Serie C1 Head Coach |
| 2012/2014 | LUSERNA WOMEN | PRIMAVERA COACH |
| 2012/2014 | AC SIENA | FOOTBALL SCHOOL COACH |
| 2010/2012 | PARMA CALCIO | FOOTBALL SCHOOL COACH |