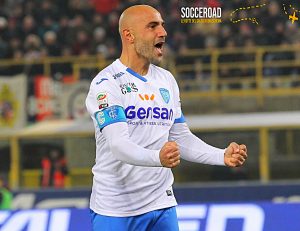 Today's guest doesn't need any introduction, a striker capable of scoring important goals not only in Italy but also in the Premier League… The original!
Massimo Maccarone is not a glossy cover character, he's one who works, scores a lot and speaks little; for this reason his friends and fans love him.
Let's jump into his album of memories, discovering many stories and also his Australian adventure, in order to tell the tale of a real bomber!
"After being the top scorer with Prato in Serie C2 I conquered the Serie A with the Empoli jersey: at the end of the season, however, the club sold me to Middlesbrough. It was my first crossroads: I had an agreement with Juventus on the plate but Empoli preferred to sell me to the English club because of the economic aspect… So my debut in Serie A was postponed for a few years".
Many places and many goals
"In Palermo and Parma I didn't have an impact for various reasons as I did in Empoli and Siena: many beautiful and important goals. My only regret is that I never played in a top team. I had the opportunity to play with Sampdoria, a team that was one of the best for me, but I arrived at the wrong time, between change of ownership and a crisis of results … I had imagined a completely different environment and epilogue".
THE FACT
…"I don't want to end my carree like this, having played a game two months ago without knowing that it was my last game! I want to wait and live it with all the relevant emotions and the awareness..!".
Your national debut has a particular background
"I was playing in Serie B for Empoli, and it was already unusual to be part of a U21 National team not playing in Serie A! Even during the interval of England vs. Italy U21 Mr Gentile replaced me; I was very ill, I had just scored two fantastic goals … Then they explained to me that I had been called by Giovanni Trapattoni with the senior national team because of Christian Vieri's injury… It was a great emotion! The next day I sat on the bench with the National A team and made my debut 15 minutes before the end of the game, also taking a penalty kick which Montella then scored, and we won 2-1 in Leeds".
Massimo Maccarone, in 2002, was the second footballer in Italian history to have made his international debut without having made his Serie A debut; the first was in 1929 Raffaele Costantino. After him, the only ones who succeeded in this were Marco Verratti in 2012 and Nicolò Zaniolo in 2018.
What has the experience in the Premier League left you?
"It made me grow a lot on a human level, it was the first time for me abroad and I discovered a different way of life, a culture with different habits and mentality… On the field then it was always pure show, with games of the highest level in stadiums always full and with a very warm atmosphere… It's the league with the best football among the ones I played".
How did the opportunity in Australia come about?
"It happened in the past to speak with my former teammate Vincenzo Grella, Australian, and this idea of going there to play came out, but at the time I was thinking of ending my career in Empoli. Then with the Tuscan club something broke and we left in a bad way. I wanted to disconnect, I always liked to wander and see new places, so I decided that this was the right time to leave. In less than 24 hours Vincenzo made me talk to the management of Brisbane Roar and so began my Australian adventure!".
And how did it go?
"Brisbane is a very beautiful city, it's called Australian Miami for its palm trees and long beaches that together are called the Gold Coast. The weather was very humid and hot, so we trained early in the morning and played games at night around dinner time and I remember losing a lot of fluids, even for 5 kg weight. Also the structures are at the forefront with beautiful stadiums, even though football is a minor sport there and it's difficult to fill them. Brisbane is one of the most titled clubs in the league, my integration was eased by Mr Aloisi, coach of the team, former Cremonese. What struck me was the tranquility with which people live the team and the games: to win or to lose is practically the same thing, both the players and the fans live peacefully, at the beginning it was almost upsetting me because I thought my teammates didn't care much, but afterwards I understood that it simply was their way and their culture… It happened to me to take pictures and to sign autographs with the fans even after a defeat".
Brisbane, with its 2.5 million inhabitants, is the capital and most populous city in the Australian state of Queensland, as well as the third most populous city in Australia. Located along the east coast of the country, Brisbane has a subtropical humid climate and, given its proximity to the Coral Sea, the temperature in winter doesn't drop below 20 ° C.
How was your typical day?
"I used to wake up at dawn around 5.30, in order to be at 7 at the field, then an hour between massages and therapies or some general strengthening, and then on the pitch at 8 for team training … At 10 in the morning I was free until the next day! Once I got into the rhythm of my new life, I was able to appreciate the natural beauty of the place, enjoying the long days especially in winter when temperatures never dropped below 20 °. The first months I was alone and I lived in a hotel in the centre of Brisbane: the owner was an Italian who had emigrated many years before and then, starting with a fish & chips restaurant, he built an empire in the restaurant and hotel sector… I missed Italy less and he helped me a lot, also with the language: I had been in England but in Australia the accent is completely different and at the beginning I struggled a bit".
However, you have decided to go back to Italy to keep a promise to someone special
"Yes! I got back home only for Mr Silvio Baldini: he had been out of the loop for years but as soon as he called me I didn't hesitate to come back and put myself at his disposal… I was a bit sorry to leave Australia because I was fine, but I owed him, for everything he has done for me, both on a human and football level".
Was the idea to stop at the end of this experience?
"It was initially like that but today with this situation I really think I'll have to extend my career on the pitch for another year… I don't want to end it like this, having played a game two months ago without knowing that it was my last game! I want to wait and live it with all the relevant emotions and the awareness".
What football gave you and took from you?
"It gave me a lot, a passion that becomes your job is everyone's dream! What took from me? I'd say common childhood and adolescence: going out with friends on Sundays and holidays for example, I've made many sacrifices over the years and I've lost several friendships".
The family and the importance in the choices of a football player
"I got married relatively late by the standard of footballers, now I also have two beautiful daughters: when you become a father, your perspective and vision of life changes completely. Consequently, even the football choices of the last few years have been taken according to the family; I returned to Empoli in 2012 for example, to live in peace in a city to which I'm attached and where I have many friends. I have to thank my family so much, because if I still play at these levels it's thanks to them, for the serenity they give me every day".
Tell us the meaning of your famous celebration and the nickname Big Mac!
"Big Mac is a name that came up in an article by the Gazzetta dello Sport: I scored and led Middlesbrough to victory, I was among the first Italians in the Premier League and the Gazzetta made this word game between English and my surname. The celebration was born in Siena, but didn't refer to the gesture of dribbling in basketball as mistakenly thought, given the basketball tradition of Siena and Monte Dei Paschi Basket; the meaning of that gesture instead lies in a game I played with my friends and teammates. In moments of relaxation with Locatelli and Galloppa we liked to make ourselves a sambuca flambèe to toast and share funny moments… We decided that we would have celebrated every goal on the pitch by doing the same gesture!".
Sambuca is a liqueur that can be served straight, as a digestive or simply as a drink. The flambèe version is made using a narrow glass, lighting the sambuca on the surface, covering the glass with the palm of the hand until the flame goes out and the glass sticks to the palm of the hand. After checking that the glass is well attached, shake for a few seconds, remove the hand and drink all of a breath.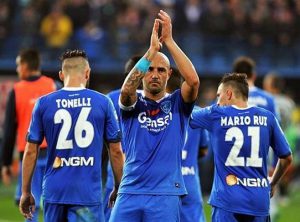 "A memorable day was when all the three of us scored, celebrating in the same way as a sign of great friendship … Ironically against Empoli: it ended 3-0!".
The future of Big Mac?
"Getting away from the field weighs on me and it'll be an important step. I still don't know what I'll do once my football career is over, I have to think carefully and understand what the right role is for me. I'll start from scratch, and I'd like to do it always in the world of football".
Are always the great players to be champions of humanity: for sure Massimo is one of these and if you know him you cannot not love him. We still want you to write other pages of your career, made of goals and examples for the youngest … For us he always will be Big Mac!
Follow Big Mac on his SOCIAL accounts:
Traslate By Matteo Santuari – Socceroad press staff
MASSIMO MACCARONE'S COORDINATES:
Massimo Maccarone (Galliate, 6th September 1979) is an Italian footballer, current Carrarese striker.
• 1 ENGLISH FA CUP
• 2 SERIE B CHAMPIONSHIPS (EMPOLI)
• 1 U21 EUROPEAN BRONZE MEDAL (SWITZERLAND 2002)
• 1 U21 EUROPEAN TOPSCORERS STANDING (SWITZERLAND 2002)
• 1 SERIE C2 TOPSCORERS STANDING
• 2 NATIONAL PRESENCES
• 15 apps and 11 goals in the U21 National team
• 268 APPS AND 80 GOALS IN SERIE A
• 80 APPS AND 18 GOALS IN PREMIER LEAGUE (ENGLAND)
• 27 apps and 9 goals in A LEAGUE (AUSTRALIA)
• 20 APPS AND 10 GOALS IN EUROPE LEAGUE
• 1 APP AND 1 GOAL IN AFC CHAMPIONS LEAGUE
• 178 APPS AND 67 GOALS IN SERIES B
• 13 APPS AND 1 GOAL IN THE FA CUP (ENGLAND)
• 61 APPS AND 10 GOALS IN SERIE C1
• 49 APPS AND 24 GOALS IN SERIE C2
• 26 APPS AND 11 GOALS IN THE ITALIAN CUP
• 1 APP IN THE AUSTRALIAN CUP
DATI AGGIORNATI AL 20 APRILE 2020
FOOTBALLER CAREER
YEAR
CLUB
CATEGORY
APPS
GOALS
2018/2020
CARRARESE
SERIE C
58
10
2017/2018
BRISBANE ROAR
A LEAGUE – AUSTRALIA
27
9
2014/2017
EMPOLI
SERIE A
98
28
Jan 2012/2014
EMPOLI
SERIE B
99
38
2011/2012
SAMPDORIA
SERIE B
11
3
Gen 2011
SAMPDORIA
SERIE A
17
3
2010/2011
PALERMO
SERIE A
17
2
Jan 2007/2010
SIENA
SERIE A
113
40
2005/2007
MIDDLESBROUGH
PREMIER LEAGUE
23
3
Gen 2005
SIENA
SERIE A
17
7
2004/2005
PARMA
SERIE A
7
0
2002/2004
MIDDLESBROUGH
PREMIER LEAGUE
57
15
2000/2002
EMPOLI
SERIE B
68
26
Sept 1999
PRATO
SERIE C2
28
20
1999/2000
VARESE
SERIE C1
3
0
1998/1999
PRATO
SERIE C2
21
4
1993/1998
MILAN
YOUTH SECTOR