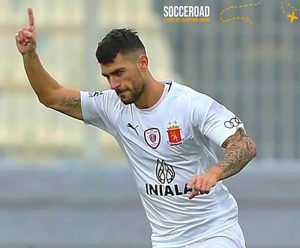 Another SOCCEROAD trip and another story of football and success outside the Italian territory … Actually today we move just a little from our borders, but enough to meet a 'bomber' who, far from his country, has consecrated himself to the sound of goals.
Mario Fontanella is a striker who, for many years, has sailed in the insecure waters of the Serie D and, although scoring with continuity, he has never managed to break through and get to play as a pro.
There are many stories like his one, but today we celebrate the success of who won in Malta: league, goalscorers ranking, cups and Champions League appearances.
""I'm very happy with the choice I made, I couln't ask for anything better! I live with my wife and daughters near the sea in the south of the island and play with Valletta FC, the most important team in the country … To be clear, it's like Juventus from Malta!".
Yet your career didn't seem about to explode
"Many years of Serie D scoring a lot of goals were not enough in Italy to guarantee me a professional contract. So after the 25 goals that earned me the top scorers ranking with Budoni's jersey, I decided for a change of scenery, in order to play in a foreign first league. In January of that year I refused the Bulgaria solution, my wife was pregnant and we had a 2 months old baby, so that wasn't the right time, but at the end of the season I didn't think twice about it!".
THE FACT
…"Against Dudelange I scored the most important goal of my career which earned the club its first historic qualification to the next Champions League round! I was also the first player in history to score in all the games of the event… 4 games and 4 goals in the 2019/2020 Champions League…!".
How the negotiation was born
"Through Salvatore Trunfio of the Mediastar agency I spoke with the President of Floriana Riccardo Gaucci: he, who had always been a proponent of young players from the minor leagues, was building a team with this idea and I immediately signed a three-year contract".
How was the impact with the new football?
"At the beginning it wasn't easy, football here in Malta, especially five years ago, was lived differently; Floriana was at the beginning of the club's growth process: we trained in the evening on a pitch to share with other teams, I had to wash all the sports equipment that I used for training at home… For me it was all new! But i'm very happy to have made that choice also because shortly thereafter with Floriana I lived one of the most beautiful emotions of my career…".
Tell us all about it!
"The victory of the FA Cup in Malta allowed us to play the Europa League preliminary round against the Red Star, we drew 3-3 at home and then lost 3-0 in Belgrade; playing in front of a wild crowd like that was exciting, something indescribable also because we didn't get there to go for a walk but, after the result of the first game, we tried to contend the qualification!".
After 3 years and 51 goals scored with Floriana the change of jersey
"I had a great time with Floriana, I left myself in excellent relations with the whole environment and I will always be grateful to President Gaucci, but my dream and my ambition was to come here and play with the most important team! Valletta FC is the most titled team in Malta, has won 25 titles, 7 in the last 10 years… Basically it's Juventus from Malta. I thank Valletta FC because they invested in me by paying the federal parameter to my previous team: in the event of a contract expiry, the Maltese federation obliges the other clubs to pay, like an enhancement prize, which doesn't happen if at the end of the contract you go abroad, in that case there is no fee".
Now all about Valletta FC
"It's a source of pride to play with Valletta FC, which is a highly professional club in everything: it has its own sports center equipped with every comfort and a top staff, also on a medical and rehabilitation level, here you are a real footballer! Last year we won the championship and for the celebrations in the main square there were over 30 thousand people; people stop me on the street for photos and autographs, but above all there are many charity events where I go with great pleasure, especially if they concern less fortunate children".
This year the greatest satisfaction of your career
"We managed to get through the Champions League preliminary round! It was my second experience in the top European competition; last year, with a goal conceded in the additional time, we were eliminated with two draws by Kukesi FC and then also eliminated from the Europa League, against Mostar, contending the qualification until the last second! This year, however, the great night of Dudelange! I scored the most important goal of my career which earned the club its first historic qualification to the next Champions League round and I was also the first player in history to score in all the matches of the event… 4 games and 4 goals in the Champions League League 2019/2020″.
Do European cup games give you with a different kind of experience?
"Absolutely yes! It's a different world in all aspects, especially at an organizational level and from the surrounding point of view. In the past season, already since the warm-up, we felt like we couldn't win… But this year I had the feeling of being able to do it and so it was! We also touched on the epic quest of passing a further round against Ferencváros, a Hungarian team, but in the end we didn't make it; we found ourselves in Europa League and we had to play against FC Astana… There was no match!".
A few weeks ago Giovanni Tedesco got the lead of the team
"I've known the coach since Floriana's time, he's a hard worker and he's also very prepared from a tactical point of view, let's say that he works with Italian methodology and philosophy and I feel very comfortable. He has only had 3 games, he needs time to influence the team organization but at the moment we are all stuck with this bad pandemic".
How is the health situation in Malta?
"Definitely better than Italy, when I see the news coming from my country I'm very sad and worried about all the people who are going through this very bad time. Here we are not even in quarantine, the restrictions are only for the elderly and pregnant women, who can't leave the house. I keep training in the morning alone, and then 3 times a week we have the team training session on skype with the physical trainer. I read that in Italy there is resentment towards the players but we too are worried because as we all have parents, wives, and children… The big numbers are earned in Serie A, but in the minor categories we suffer as in all other jobs".
What do you think the Maltese federation will decide?
"We are 3 points behind Floriana and there are six games left at the end of the championship, it's feasible to play them in two weeks, but now talking about football is really premature. If we were to return to the field I dream of a playoff for the title between us and my former team, also because it would mean filling the national stadium, given the importance of the match and the rivalry between the two teams … To be clear, it's like a Juventus – Inter, valid for the Scudetto".
Do you miss Italy
"Talking about family affections and friendships yes, but for the rest I'm fine here, I don't miss anything: my family, the sea always before my eyes… I feel professionally satisfied, so as to refuse a very good offer from Al-Ain in January, UAE team, and decide to extend my contract until 2023 with Valletta FC".
How are you dealing with language and food
"The first years with Floriana I spoke Italian having president, coach and many teammates who spoke my language, in the last year and a half I had to engage with English, let's say that as a good Neapolitan I get along and I communicate with Neapolitan English! I don't have any trouble with food, my wife is a great cook (she's Neapolitan too!) and she doesn't make miss anything, even if my meals are often those of the athlete's diet".
Have you ever thought about the National team?
"To say I don't think about it would be a lie, but you know how these things are, they go beyond the field. The Maltese regulation stipulates that to be called up you have to spend 5 years in the country's championship… In theory, I could be called up from next season… I don't say more, I hope it and I would be proud of it because by now I feel Maltese of adoption, this is my home away from home".
Future goals?
"I hope that soon we can go back to live again our lives to the fullest… Personally I want to continue playing and winning with Valletta FC, then when my contract will end I'll evaluate what to do, maybe another foreign experience but further away".
Acknowledgments?
"Many thanks go to Raffaele Cerbone, my coach at the time of Budoni, because with him I consecrated myself, but the greatest thanks go to my family, who has always been there for me with a lot of great support, thanks to them and my sacrifices I'm proud to be exactly where I am".
It's not that common to meet a 'pure bomber' like Mario, capable of imposing himself on the island of Malta and of bringing the Capital's team into the Champions League! A goal that will remain engraved in the hearts of all those who, like him, dream and love formidable and almost impossible challenges.
Good luck Mario!!! Socceroad is with you!
traslate by Matteo Santuari
Follow Mario on his social account:
MARIO FONTANELLA'S COORDINATES:
Mario Fontanella, Naples, June 28th 1989, is an Italian striker. He currently plays with Valletta FC, a team that participates in the Maltese Premier League and holds the title.
UP TO DATE AS OF MARCH 10th, 2020
• PREMIER LEAGUE CHAMPIONSHIP (VALLETTA 2019)
• 1 SERIES D CHAMPIONSHIP (NEAPOLIS)
• 1 MALTA CUP (FLORIANA 2017)
• 3 MALTA SUPERCUP (FLORIANA 2017 – VALLETTA 2018 & 2019)
• 1 MALTA PREMIER LEAGUE TOP SCORER (20 GOL 2015/2016)
• 6 APPS AND 2 GOALS IN CHAMPIONS LEAGUE
• 4 APPS AND 2 GOALS IN EUROPA LEAGUE
• 132 APPS AND 82 GOALS MALTESE PREMIER LEAGUE
• 3 APPS AND 3 GOALS MALTESE SUPERCUP
• 14 APPS AND 8 GOALS MALTESE CUP
• 20 APPS IN SERIES C2
• 138 APPS AND 75 GOALS IN SERIES D
| | | | | |
| --- | --- | --- | --- | --- |
| YEAR | CLUB | CATEGORY | APPS | GOALS |
| 2019/2020 | VALLETTA | PREMIER LEAGUE – MALTA | 19 | 13 |
| 2018/2019 | VALLETTA | PREMIER LEAGUE – MALTA | 27 | 18 |
| 2015/2018 | FLORIANA | PREMIER LEAGUE – MALTA | 86 | 51 |
| 2014/2015 | BUDONI | SERIE D | 30 | 25 |
| 2013/2014 | BASTIA | SERIE D | 30 | 13 |
| Dec 2012 | SARNESE | SERIE D | 12 | 2 |
| 2012/2013 | NOTO | SERIE D | 15 | 3 |
| 2011/2012 | NOTO | SERIE D | 31 | 17 |
| 2010/2011 | NEAPOLIS | SERIE C2 | 15 | 0 |
| 2009/2010 | NEAPOLIS | SERIE D | 24 | 12 |
| Jan 2009 | VIRIBUS UNITIS | SERIE D | 14 | 4 |
| 2008/2009 | BARLETTA | SERIE C2 | 5 | 0 |
| 2007/2008 | NAPOLI | SERIE A | 0 | 0 |