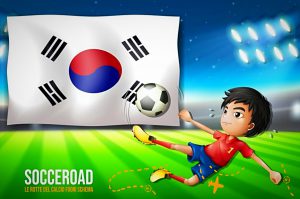 SOCCEROAD keeps telling stories from all over the world and this time makes a stop in South Korea, to discover the story of Massimo Gaz and to talk about the great project of which he's part and for which he's looking for Italian guys who want to have a working or internship experience in the East with the EFA: English Football Academy.
The Eastern world is always fascinating, a culture to be discovered and studied, even more so that of South Korea, which in the last few decades has been growing strongly from the financial and technological point of view.
Massimo is one of the instructors who works for the EFA, his story is important and interesting, made of a mix between sport and social life that makes our mind wander in the East.
Discovering Massimo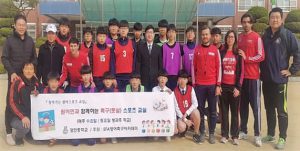 "I'm from Rome and I studied Oriental Languages at La Sapienza; since my childhood I've been fascinated by the Lands of the Rising Sun and so I decided to study Japanese and Korean cultures. When, through a university friend, I learned about the opportunity to follow a project in South Korea, I decided to give it a shot and that's how I came here for a three-month trial period".
THE FACT
…The EFA is always looking for new trainees and provides to give round-trip flights, board, accommodation and after the trial period an adequate salary based on the instructor's competences and abilities. An intermediate level of English is required!

The project is part of a plan financed by the Korean government for the promotion of football in schools as a physical activity, managed by European and preferably Italian instructors; participating schools have for one year the chance to have qualified instructors who weekly, using their state-of-the-art facilities, follow the development of the child / youth with targeted programs, designed specifically for each age group. From childhood to high schools, every order and grade can participate in the program that is coordinated by the EFA .
EFA YOUR OPPORTUNITY
"The EFA is always looking for new trainees to work with our coaches already present in Andong; we start with a period that goes from 3 to 6 months and for the most deserving ones even a year. We are looking for guys preferably under 29, in order to be able to apply for the Working Holiday Visa. The company provides round-trip flights, board, accommodation, transportation and after the trial period an adequate salary based on the instructor's competences and abilities. Is not important a coach qualification but an intermediate level of English is required! Also we accept other sports like basket, tennis, volley, rugby etc…
If you have all the above requirements and are curious about more information, you can contact us directly by e-mail at federico@socceroad.com since Socceroad is the only responsible for recruitment in Italy !!!
How did the trial period go?
"Very well, I was listed as an assistant to a highly trained Spanish coach, selected by the EFA; every morning we did three hours of work, one hour for each age group. The three months have literally flown by and I have earned the reconfirmation from the General Manager Custin! During the Christmas period I went to Wales for the UEFA D coaching license and in February I was back in Andong to resume my job, but this time with the qualification of instructor and coach ".
Andong is a city of 180,000 inhabitants in the Yeongnam region, crossed by the Nakdong River, thanks to which the city is an important center for trade and agriculture in the surrounding areas. In the late 90s and early 2000s it became a tourist and cultural center that made it known to the world especially for its popular traditions, such as the Folk Festival held every year in October and the famous Andong masks, that characterize all the local festivals.

Famous in the city is the Hahoe Folk Village, the most important folk village in South Korea, which has also been a UNESCO heritage site since 2010. The city is also famous for its University specializing in Korean education and folklore.
"I'm very happy here in Andong, a city where nothing's missing and people are friendly and welcoming: you don't see so many Europeans or Italians around here, unlike in cities like Seoul which is much more European, so after an initial phase of mistrust from the locals today everyone loves me! Even in schools, teachers and parents always welcome me with great warmth, offering me coffee and pastries. In the spare time then it's easy to have fun, the university area is full of clubs with karaoke and musical entertainment.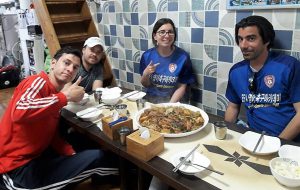 The EFA in Andong offers also young students the possibility of afternoon training, dedicated to enrich the football focusing on those details and shades that during school hours can't be taken care of. In fact, even Massimo, along with the other coaches, many afternoons a week goes back into the field to work with these guys.
"We are three Italians and a Brazilian at the moment and between us there is a good relationship, both professional and as friends: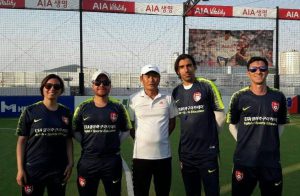 sometimes it's nice to speak Italian because at work we are bound by contract to speak exclusively English. . We often find ourselves spending time together, eating something out. Here 80% of the food is very spicy and I'm crazy about it … Then a nice Soju to digest and sip something, exchanging ideas and impressions ".
Fascinating and to follow step by step is the adventure of Massimo Gaz in South Korea, an unknown country until a few years ago but that in the last twenty years has grown exponentially, becoming an economic and technological force also thanks to famous companies like LG, Samsung, Hyundai and many others.
If you also want to have an incredible work experience, in this magical place in the East, don't hesitate to write us because SOCCEROAD IS OPPORTUNITIES!
THE COORDINATES FOR THE ADVENTURE IN SOUTH KOREA: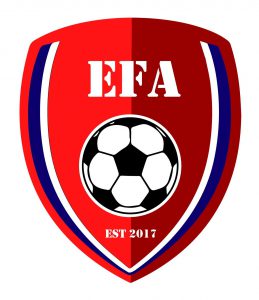 The English Football Academy
OFFERS:
• FLIGHT
• BOARD AND ACCOMMODATION
• ON-SITE TRANSPORT
• VISA FOR THE DURATION OF A YEAR
• SALARY ADJUSTED ACCORDING TO THE CAPACITY
IT REQUIRED:
• Maximum age 29 years
• Knowledge of English language Intermediate level
• Education: graduates / undergraduates in Sports Science
CONTACTS:
Send your resume to federico@socceroad.com with all your contact details and you will be called back for a first insight telephone interview.