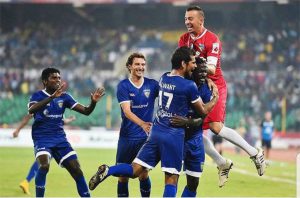 Francesco is one of those people who have a lot to tell: a life dedicated to soccer, first as a player and now as a coach… A very particular one… The goalkeeper's coach.

We met when he used to train Chennaiyin goalkeepers, an Indian club, that often used to come near Perugia for its pre-championship training camp.
Today he trains goalkeepers for Arezzo in Serie C, coming from the brilliant experience with Viterbese last year. As a pro player he achieved many good results, playing in "difficult" places such as Nocera Inferiore (Nocerina), Castellammare di Stabia (Juve stabia) and Verona (Hellas Verona), going through Novara and closing his career in a place that is the complete opposite of these ones: Castel Rigone! A tiny municipality of 400 people up on a 650m hill between Perugia and the Trasimeno lake.
And to Castel Rigone and to its President Brunello Cucinelli, more famous as an entrepreneur and an intellectual, goes the first thought of Francesco: "Top situation from all the points of view, with a great President that has been able to bring to Serie C a little club that started in 3rd Category!!" But Castel Rigone and its President deserve a whole story… Who knows, maybe in the future…
THE FACT
Francesco Franzese counts at least one appearance in every category from Eccellenza to Serie B… "Serie A? I have to get there as a coach!".
We get a coffee and we start to talk about soccer, projects and memories: as a person, he says, he stayed the same also after his change of role. "I've always been a group person, one that was love and respected by the others, also now that I'm a trainer I try to base my work on the human relationship with the players. The biggest difference between players and trainers is the change of points of view: players think a lot about themselves, they think to train and to play, but trainers and coaches have many more situations to consider in order to create and develop a working group and to gain results.
I can say that my past experiences help me a lot to manage many kinds of troubles that can appear during the way: I played first line (often), but I also sat on the bench or in tribune (sometimes), so I can understand situations and give suggestions to approach and solve different problems"…
THEN THE CONVERSATION SHIFTS TO THE COACHES HE HAD…
"Sarri and Ventura are the ones who at the time had already something more; I must say that soccer has changed a lot in the last years also thanks to the internet and the technologies, and I have to admit that coaches and trainers nowadays, younger than before, are very competent and take care of every tiny detail. Like for example Mr. Nofri, Sottili and Giannichedda, who I worked with during the last year in Viterbo (even if only for a short period), are all very prepared, with different ideas between each other but all very interesting so I could learn a lot! Now I work for Arezzo , solid club, well organized and with a good project; also Mr. Dal Canto is really competent! The concepts about ball possession and e attack are the ones he spends a lot of time on.
I learned and I'm still learning from everyone and it feels great to be part of the staff! Once goalkeepers were relegated to a corner of the pitch, like if they didn't belong to the team, but today they work a lot more with the group, and work has become more specific".
AN IMPORTANT CHAPTER IS INDIA AND MARCO MATERAZZI…
"Yeah! It's been really a great experience and full of surprises, 3 seasons that are still in my heart. During the first year I had a double role, I was the 3rd goalkeeper and the goalkeepers' trainer, and then the next 2 years I was only a trainer: I understood that it's not possible to cover both roles, to train well and to train the others… So I preferred to stop playing, in order to fully dedicate myself to my new job. To be honest, everything came up quite casually: I got the call from Marco Materazzi when the team was in India, ready to start the championship. So I packed my bags and left…
The start hasn't been the best part! Three layovers, two trains and I lost count of how many hours I needed to get to Chennaiyin for the training session before the first match: I forgot who I was or where I was, so much was the confusion and the time difference!!! Suddenly on the field I tried to do my best,.
Then in the evening we had dinner all together and one of the players was celebrating his birthday, and right way I found myself in the first incredible tale of my new adventure.
It was time for the dessert, after a pre-match dinner very different from the ones I was used to, and I was involved in the "ritual" of the celebration; it consisted in getting our face dirty with the birthday cake and then throwing it in the face of the birthday boy, everything followed by singing and dancing. Used to Italian habits, such as concentration, rest and balanced food intake, I was a bit shocked to see all that and I said to myself: surely tomorrow we'll take 3 goals! But we won, and we won loudly, and from there my new Indian world started, with a match every 3 days, travels and new experiences in a place that was all to discover.
The atmosphere was fantastic, stadiums with more than 70k spectators every match (I was used to around 300 a few months before in Castel Rigone), and clubs full of absolute champions like Nesta, Elano and Materazzi that played with me, to Del Piero, Trezeguet, Anelka, Zambrotta and many more. They have been 3 beautiful seasons, lived intensely: the league lasted 3 months and as I said we used to play every 3 days, and we'd stay together 24h a day for all the lenght of the league, from travels to hotels, from everyday meals to the moment of the prayer… Yes, you read correct! Before every training session we used to gather for a prayer, and the marvellous thing that I'll always remember was that once we were in circle everyone prayed according to his religion! No matter if Muslim, Buddhist or Cattolic… Each worshipped his God in his own way.
I'll always bring with me many amazing memories, like the 1st place in the league during my 2nd year or other tales, like the President going around with a book whe she came to the stadium… At the end of my 1st year I found out that it was a guide with the rules of soccer!!!".

THEN THERE WAS COACH MARCO MATERAZZI…
"Exactly! I met Marco for the first time when we were playing for Perugia, he was in the First Team with coach Carlo Mazzone and I was in the Under 19; and after our soccer careers (mine decent, his extraordinary), we met again for this Indian adventure. Materazzi as a coach in India was a manager who, like in England, took care of every aspect concerning the club: transfer market, institutional relationships, group management, matches preparation and he even played a few matches. He trusted our staff and our work very much and with the humbleness that distinguishes him, he didn't hesitate to acknowledge our good work also in public. His leadership is something he was born with: not many times I could witness to a group handling like it was with him, with discipline and coherence, putting always everyone on the same level! He always protected our staff and the players in every situation, but better not to play… Otherwise there would have probably been consequences!!! Also thanks to this environment made of esteem and openness we arrived to reach great results".
A LAST THOUGHT GOES TO…
""'d like to thank all the goalkeepers I trained in India: Kerr (Jamaica National team), Edel (4 years with PSG), Bracigliano (former Marsiglia) and Karanjit (Indian National team), and "my" goalkeepers of the last season: Iannarilli, who plays now for Ternana and established the undefeated record for a goalkeeper, Pini and Micheli… And then today's goalkeepers with Arezzo: Pelagotti, Melgrati and Ubirti, with who I hope to grow together and to reach the best results!!".
"Last but not least, special thanks to my wife Tiziana… That supports me and stands all my choices and all my adventures… Thank you!!!".
Good luck Francesco… And remember: avoid the cakes in the face!!!
FRANCESCO FRANZESE'S COORDINATES
Francesco Franzese (born in Nola, NA – 8th september 1981)  UEFA B coach license / Professional certification as Goalkeeper trainer
91 APPEARANCES AS PRO BETWEEN SERIE B – SERIE C
INDIAN CHAMPION IN 2016
MAIN CLUBS AS PLAYER: HELLAS VERONA, NOVARA, NOCERINA, JUVE STABIA, CASTEL RIGONE
CLUBS AS TRAINER: CHENNAIYIN, VITERBESE, AREZZO
translation By Matteo Santuari – socceroad press staff