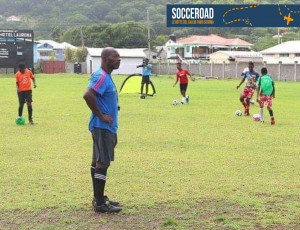 There are characters in little-known corners of the world who have decided to make their football skills available to the community, especially young children.
After a lot of wandering, Trevor Marcus stopped in the Republic of Grenada and precisely on the island of Carriacou, where he has been working for 3 years to give growth, hope and future to many young children.
The founder of the Grenada Sports and Wellbeing Foundation is Trevor Marcus McIntosh: he lived in Australia and England before landing in the Caribbean..
"I had a good career as a footballer, I was strong from an athletic point of view, I was mainly an interceptor; I played in Europe for a few years. At 34, when I was at the end of my career, I asked myself: what do I do now that I'm gonna stop playing?".
From there began your new football life with children
"After obtaining the Uefa licenses in England I moved to Sydney and then to Melbourne, Australia, where I also got back to play at the age of 47 in Daylesford & Hepburn United FC; it was there that I decided to start growing young players … That club didn't have a youth sector and above all the kids didn't have the qualities to play at good standards, so I decided to build the youth sector from scratch in order to get to give players to the first team: I started with 5 children and today, years later, I'm proud that the club has all the youth categories, both male and female… It all started thanks to me and I'm proud of it!".
LA PILLOLA
…"The goal is to give all children physical, educational and mental development through sport and well-being. Not only football, but also athletics and boxing, which allow to give a multilateralism of work that enriches young athletes from all points of view…!".
Your work hasn't gone unnoticed
"Exactly! From the Australian Federation they contacted me to find out exactly what was going on in that area of the city since the registrations had increased enormously! They offered me a job in the Football Federation Victoria so that I could continue to train and carry on youth activities. Shortly after the FFV I was offered the role of youth development officer with the Australian Federation for the development of young football players.

From Australia back to Grenada… How did this happen?
"I went back to Grenada for my uncle's funeral and during my stay I had contact with the local Federation, which wanted me strongly to work with them; some time later I received an e-mail offering me the position of Technical Director of the federation. Initially I wasn't very convinced but then, after considering my mother's health I moved back to London, then I was contacted again by the Grenada Football Association and I decided to accept the offer".
Your new adventure with new challenging goals
"Inside me there was a great desire to create something beautiful and productive for the players of my land, the idea was to change football! But soon I realized that my development ideas were in contrast with the Federation Board Member's, there was disagreement on how to manage the programs and I understood that their desire was not to develop and grow young players but only doing business… My adventure as Technical Director lasted less than a year"
So you moved to the island of Carriacou and opened a foundation

"The foundation is a non-profit and non-governmental organization, the Grenada Sports & Wellbeing Foundation, this is the full name, and it has decided to commit itself through sport to the growth, development and well-being of all the children and young people of Grenada, Carriacou and Petite Martinique ".
Grenada is an island state in the southeastern Caribbean sea, which also includes the southern Grenadines. Discovered in 1498 by Christopher Columbus, who named it Concepción, Grenada is the second smallest independent state on the American continent (after Saint Kitts and Nevis). It extends for about 344 km2 and it's located north of Trinidad and Tobago and south of Saint Vincent and the Grenadines.
What are the goals that you have set?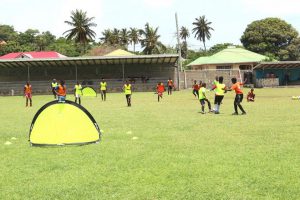 "The goal is to give all young children physical, educational and mental development by creating educational paths through sport and wellness. Not only football, but also other sports such as athletics and boxing, which allow you to give a multilateralism of work that enriches the young athlete from all points of view… My motto is the more young children do sport and play the better!".
How is the foundation organized in detail?
"We started 3 years ago with this project and today we have 40 young children (the city has 8000 inhabitants) who regularly carry out the activity for the whole year: the weekly program, which runs from September to mid-July, consists of 3 weekly workouts plus a game on Saturday morning. We managed to create for the first time a league where children can play 5-a-side football every week and where the result doesn't count and there are no trophies or rankings. From the second half of July until the end of August we have the events that I call competitive: a 5-a-side football tournament with many teams that come also from other Caribbean islands and other events such as camps and showcases. In order to give these young children real opportunities, with the show cases I will look to bring scouts from the USA and Europe to show".

A nice and rich menu
"It must be so! I love doing things professionally and seriously in order to give these guys real opportunities: nobody ever comes around here, no coaches and no agents, but there are talents who deserve a chance. Through tournaments I prepare the players, with camps I bring the coaches who can enrich the cultural, technical and tactical background of the players with their different methodologies and philosophies. Finally, with the showcases, I bring agents from the United States to show the kids in the right age group, ranging from u17 to u15″.
Which is Trevor Marcus' philosophy?
"I follow and train the kids throughout the year, with a staff of local instructors who assist me, but our goal is to bring coaches also from other countries to develop technique and coordination up to the age of 12. From this point on we're going to introduce other elements such as psychological and tactical aspects of the game, as well as the specialization of the role. At the end of all the training sessions we help and follow the kids in carrying out their school tasks".
What's your secret wish?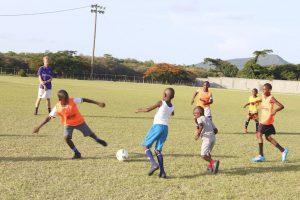 "I dream of being able to open and carry on this project also in the other Caribbean islands: the foundation is looking to open centres in Trinidad & Tobago, Barbados and St Kitts & Nevis. It's not easy to find people with the same philosophy, everyone thinks about business, but the guys of the foundation pay nothing: everything is supported by donations or small sponsorships, but not having a real administration, it's not easy to find businesses and companies that can help us. Sports equipment is also a big problem: it's very expensive for our reality considering the prices, the monetary difference and the import, but I don't lose hope, on the contrary… I raise!".
It's been an immense pleasure for me to get to know Trevor and his fantastic reality: when you hear these stories you breathe a different way of life, a different way of doing sport, which has been lost in the most developed countries. In Grenada there are still children who dream of playing football by getting dirty in the dusty fields, or by covering miles just to kick a ball in a way that would be normal for us.
"I want to try to involve and bring into my organization as many kids as possible, to then develop their skills and above all to entertain them in a healthy and educational way. Children are the future and we must help them in every way we can!".
And we wish you good luck with all our heart!
Segui GRENADA SPORTS AND WELLBEING sui social:
Profilo Facebook > Grenada Sports & Well-being Foundation
LE COORDINATE DELLA GRENADA SPORTS & WELLBEING: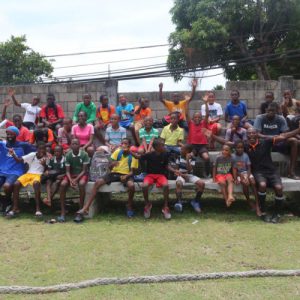 The Grenada Sports & Well-being Foundation (GSWF) is a non-governmental organization in Grenada that works to improve sport and well-being on the island.
The GSWF is seeking funding and sponsorship to grow their programmes, if anyone is interested in getting involved please contact the foundation website www.grenadasportswellbeing.org
ANNUAL APPOINTMENTS:
5-a-side football tournament held in Grenada in February and July every year
5-a-side Tournament held in Carriacou in July every year
Summer program held in Carriacou in July
Boxing tournament to be held in Grenada in October
MAIN OBJECTIVES
● Improvement of health standards in disadvantaged communities.
● Educate disadvantaged communities to basic physiology and various health benefits
which come from physical activity.
● Educate young people of these disadvantaged communities. Including
scholarships for overseas universities.