Se sei qui, allora, sei curioso di scoprire meglio SOCCEROAD!
If you're here you're curious to find out more about SOCCEROAD!
Beh inizio subito col dirti che questo blog è autobiografico perché la "strada del calcio" di cui voglio raccontarti qualcosa è la mia… 😉 E a dire il vero definirlo proprio "blog" può essere riduttivo, ma per cominciare… va bene così!
Mi chiamo Federico Turriziani e con SocceRoad vorrei portarti nelle mie 1000 avventure, da allenatore-viaggiatore. Innamorato del calcio, praticamente fin dalla prima palla che mi è stata regalata da bambino, come tutti i ragazzi italiani dei mitici anni '80 sono cresciuto a pane e pallone, fino a che… la crescita si è fermata ma il piatto preferito è rimasto sempre lo stesso!
Da più di qualche anno, infatti, la mia passione per il calcio si è trasformata in una professione e così, in queste pagine, raccolgo tutte le mie esperienze, diversissime fra di loro e vissute a tutte le latitudini, che a pensarci bene l'unico comune denominatore di ciascuna è solo il famosissimo e amato rettangolo verde…
Tutto il resto, invece, l'ho giocato fuori dal campo e senza alcuno schema!
Well, I start by telling you that this is an autobiographical blog, because the "road of soccer" that I want to tell you about is mine… 😉 I must say the truth…calling it "blog" can be reductive, but it's alright as a start!
My name is Federico Turriziani and with SocceRoad I want to bring you in my thousand adventures as a travelling trainer. I'm in love with soccer since that first ball which was given to me as a present when i was a child; as all the italian boys in the magical 80s I grew up with 'bread and soccer', until the growth stopped but the favourite meal always stayed the same!
Since more than some years infact my passion for soccer became a profession, so in these pages i collect all my experiences, so different from each other and lived at so different latitudes that to think about it very well the only common factor is the good old green rectangle…
All the rest, on the other hand, I played it out of the field and with no scheme!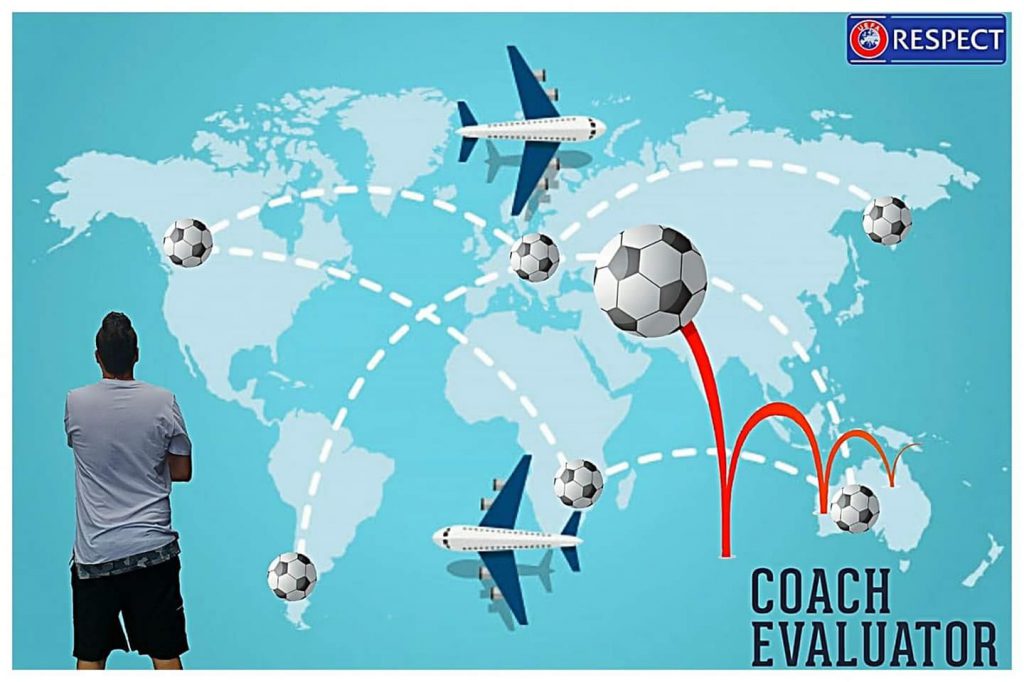 LE MIE COORDINATE / HERE ARE MY ROUTES
     ALLENATORE UEFA  //  

UEFA coach license

       

VIDEO ANALISTA TATTICO //  LICENSE "Match analysis" Video and match analysis

     PREPARATORE FISICO NAZIONALE OLIMPICO C.O.N.I.  //  LICENSE "Football school Academy instructor"

     ISTRUTTORE GIOVANI CALCIATORI  //  LICENSE: "Italian National Olympic Sports fitness coach" C.O.N.I.
La mia partita inizia in Italia, a casa mia, più precisamente Perugia ed è proseguita – senza cronometro – tra Vecchio e Nuovo Continente.
I momenti importanti e di prova, sia di qua che di là dall'oceano, non sono mai mancati nella mia vita professionale e la cosa di cui vado più fiero è non aver mai rinnegato o rimpianto nulla di ciò che è stato sin qui. Perché ci ho creduto e ci credo ancora.
Il lato affascinante del calcio è che è veramente di tutti e per tutti, di chi lo comanda e di chi solo ne parla… In mezzo trovi qualsiasi cosa e proprio quando pensi di essere un esperto hai prova, invece, di quanto sia infinitamente vasto questo universo.
Inutile dire che è difficile, per quelli come me, che partono da zero: è dura emergere e dimostrare semplicemente quello che vali. 

Prima di poter iniziare a far qualsiasi cosa, la prima partita da vincere è quella delle resistenze, senza impigliarti nella rete che separa il mare di quelli che vogliono starti davanti e coloro per i quali non sei nessuno. Io non ho mai avuto corsie preferenziali per continuare ad andare avanti, né tanto meno forbici per abbreviare il percorso… Ma non ho smesso un solo istante di ricercare quella fessura da "allargare", allontanandomi così tanto dal traffico rumoroso, che mi sono ritrovato (a sorpresa!) a fare il giro del mondo. Questo ho fatto e questo sto cercando di fare ogni singolo giorno…
Ed ecco qui SOCCEROAD, la voglia di condividere la "strada del mio calcio". La più difficile, però anche la più affascinante: dove in pochissimi sono disposti a tenderti una mano e le opportunità te le devi creare, per poi saperle gestire appieno e al meglio.

My match started at home, more precisely in Perugia and went on – without stopwatch  – between Old e New Continent. 
Important moments, on this side and the other one of the ocean, never lacked in my professional life, and the thing that I'm proud of is to have never regretted anything until today. Because I believed it and I still believe it.
The fascinating side of soccer is that it's really for and of everyone, of who rules it and of who only talks about it, in the middle you always find any sort of thing, and just when you think you're an expert you get proof of how endlessely wide is this universe.
It goes without saying that it's hard for people starting from scratch like me: it's hard to emerge and simply show how much you're worth.
Before you can start doing something, the first match to win is against the system, you must avoid getting stuck in the net that separates you from people who want to stay in front of you and people who think you're no one. I was never on the fast lane to go forward, never even had scissors to shorten the path…But I never stopped to look for that hole to dig and make bigger, and getting so far away from the noisy traffic i found myself surprisingly going around the world!
This is what I've done, this is what i try to do everyday… And SOCCEROAD is my wish to share the road of my soccer, the most difficult but also the most fascinating, where few people are willing to help out, where you have to create your own chances so you can fully manage them then.

E allora… Benvenuti nel mio mondo… Questa è la MIA ROTTA!
Welcome to my world... This is my route!