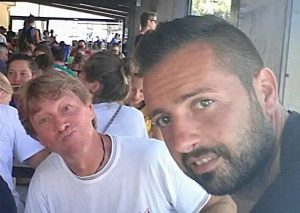 Massimo Bonini is to me the greatest example of how a man has to be before being a soccer player. He's the person in the soccer world who astounded me the most for his humbleness, his depth and his positivity!

I've worked with him for two summers at Cesenatico Eurocamp, and right away there has been a mutual esteem which continued also out of the professional context.
He has been the hidden backbone of the strongest Juventus of all times. He won every club trophy except for the UEFA Cup! Together with Tardelli and Platini, he was part of the magical Juventus' midfield, and he was also very respected from the Agnelli's family!
He used to arrive early on the field, always carrying an enthusiasm wave with him; I've never seen him a bit down, not even a single morning. Trainings, with his charisma and his past on my side, shifted from a regular summer camp to a pre-Serie A session. And then there were jokes and tales at lunchtime, with hundreds of people around and him getting busy looking for a spot for us and carrying water to the tables! Many youngsters didn't even know that that man played and won finals, that he played with the best… I was almost sorry for them… It's like if today I'd tell a 10-year-old kid about Baggio or Maldini… But I knew who he was and I was proud of it!
THE FACT
He has been the only athlete from San Marino to have won a confederal competition, in 2004 San Marino Football Federation (FSGC) appointed him as the best player in its history
Today, September 11, 2018, we meet again, on the occasion of the match San Marino vs. Luxembourg valid for the National League, the new FIFA competition which gives the chance to 4 teams to take part to Euro 2020. Massimo is the responsible for all the National Teams of San Marino.
With perfect timing we arrive in front of the gate that leads to the central tribune of the Olympic Stadium; people are in awe when Massimo lets us in his car and, passing in front of the field where he started his career, brings us inside all the way the Stadium.
Looking really elegant in his National uniform (I've only seen him in training clothes or in a bathing suit), he leads us to the Stadium. Then his work starts, firstly entertaining FIFA and Luxembourg managers, and then giving the home team moral support while waiting to get on the pitch. We take advantage of that and we go for a quick round at the Olympic Museum, which is right inside the central tribune. From the first step inside it's easy to understand the importance of sport history written by Massimo: a giant wall poster like Pelè and a lot of sports memorabilia worn or won by him! For the tiny San Marino Republic he surely has been the most important athlete ever!!!
…National Anthems time and the match starts! To be honest the game standards are far from a World Cup final, but it's normal because San Marino's players are not pros; most of them play in amateur leagues like Serie D and Eccellenza, some also with good results. Despite that, the level of involvement is high, as high is the desire of competition. The target of playing in stadiums such Wembley or Berlin is a unique feeling unique for guys who have a normal job and lead a normal life. The final score is 3-0 for Luxembourg , followed also by 200 travel hero supporters here at the stadium.
I meet again Massimo at the end of the match, he comes out of the locker room and we chat about his commitments around the world with the different Nationals and about the projects of San Marino's Federation, investments on structures and players development, and then he has to go… A dinner with the Federation and the FIFA is waiting for him, he would have been really happy to stay with us but he can't say no to them… Hopefully we'll meet again soon for a dinner, then we could have more time to talk… For now thanks Massimo, it's always a pleasure to see you! See you soon!
MASSIMO BONINI'S COORDINATES
Massimo Bonini (San Marino, October 13, 1959) is a Operational Director, soccer trainer and former midfielder.
He started out in Juvenes youth field in San Marino, but his name is linked to Juventus, team with which he made his first appearance in Serie A and with which he played for 8 seasons, playing 192 matches and scoring 5 goals. Used as a midfielder, he was among the pillars of the team trained by Giovanni Trapattoni, che lo vide affiancato players such Marco Tardelli and Michel Platini. With Juventus he won 3 Italian Champion titles, an Italian Cup and all the club competitions organized by UEFA at that time, except for the UEFA Cup, event in which he reached the quarter-finals during the 1990-91 season as Bologna's team captain.
On the basis of his sport merits, and because he has been the only athlete from San Marino to have won a confederal competition, in 2004 San Marino Football Federation (FSGC) appointed him as the best player in its history, and in the same year the European Confederation appointed him as Golden Player.
3 SERIE A CHAMPIONSHIPS (Juventus: 1981-1982, 1983-1984, 1985-1986)

1 CHAMPIONS LEAGUE (Juventus: 1984-1985)

1 INTERCONTINENTAL CUP (Juventus: 1985)

1 EUROPEAN SUPER CUP (Juventus: 1984)

1 CUP WINNERS' CUP (Juventus: 1983-1984)
1 ITALIAN CUP (Juventus:  1982/1983)
491 APPEARANCES 16 GOALS AS A PRO BETWEEN LEAGUES AND EUROPEAN CUPS (296 WITH JUVENTUS)
19 APPEARANCES WITH SAN MARINO NATIONAL TEAM
8  APPEARANCES AS SAN MARINO NATIONAL TEAM TRAINER
translation By Matteo Santuari – socceroad press staff