Today I want to take you with me to a special fuel station… One that makes a full tank of energy and complete check-ups from A to Z! We're not talking about cars… But about players!

I want to introduce you an important professionist, a physical trainer that, with his work, fills up with energy the "tank" of football teams.
I know him since long, because we worked together in 2006 for Torgiano (near Perugia), a club that was in Serie D at the time. His name is Alessandro Scaia and our professional relationship lasted (unfortunately!) only a few months, but I learned a lot from him anyway! I can surely say that he filled up also my "tank"; I was still at the beginning of my career, working as second coach.
He's still young, and he's building a brilliant career between Serie C and Serie B, always with good satisfactions.
THE QUOTE
In soccer the desire to grow and improve comes before the capability…
We met again a few days ago in Umbria, after months of just a bit of whatsapping. Among the first topics of our talk there is obviously his most recent adventure-misadventure: AVELLINO!
The great achievement avoiding the relegation playouts through a thousand troubles, his automatic contract renewal, but then… FIGC didn't allow the club to participate to the Serie B championship because of economical problems, avoiding the default of the society which has been recapitalized; a paradoxical and unique situation in soccer's history.
And think that on the field with Mr. Novellino first and Mr. Foscarini then, Avellino succeded in the relegation fight, with Alessandro among the protagonists of the whole season!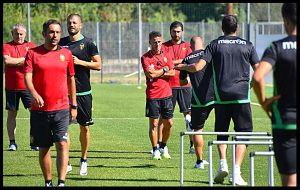 THE LAST COACH YOU WORKED WITH IS NOVELLINO
"Yes, when Mr. Novellino gets on the field, despite his long career and his age, has an incredible enthusiasm! He lives his work like if it was always the first day!!! And he's always up-to-date… Think that we even attended an English course together! He evolves continuously in better. He has a strong character and when he gets to know you well he's able to enhance you to the top".
AMONG THE MOST IMPORTANT EMOTIONS OF YOUR CAREER: THE DOUBLE MATCH AGAINST A.C. MILAN VALID FOR THE ITALIAN CUP?
"Never seen the exodus of a whole town like that time! 22 thousand supporters from Alessandria literally invaded Torino's Olimpic Stadium for the match Alessandria vs. A.C. Milan… An incredible feeling! Also the match has been fantastic: we lost only 0-1 because of a penalty kick scored by Balotelli. Then the second match at San Siro, equally exciting despite on the field we suffered and lost quite badly".
ALL THE ROAD TO THE ITALIAN CUP WAS MEMORABLE!
"Sure! We got rid of other Serie A clubs during the event, like Genoa and Palermo… Those matches were like a prize, we had nothing to lose!! After some winning matches came out a supertitious ritual: the "Soldier's Slap", a popular old game here in Italy. From the match against Spezia it became like a lucky charm, we used to do it in the morning of the match day at the end of the muscle awakening session… And until San Siro's match I'd say it worked very well!!!".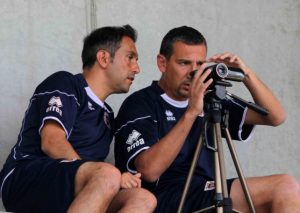 DIFFERENCES BETWEEN SERIE D, C AND B PLAYERS UNDER THE PHYSICAL TRAINING ASPECT?
Working culture and attitude. In Serie B players take care of their body very accurately, without skipping any detail… I don't need to persuade them or to force them. In lower categories often has to be taught what it means to train, to manage the body inside and outside the pitch. Professor Stefano Fiorini, Indiani's athletic trainer and my mentor in the soccer world, always used to say that availability comes before capability! This applies to every situation, also in our field, because if a player is willing, he grows and improves mentally, phisically and technically, but ifhe's not, then everything gets complicated".
HOW DID YOUR JOB AND THE COACHES MANAGEMENT CHANGE IN THE YEARS?
"With the players technologic monitoring during trainings and matches, also my job took a different direction: before I focused a lot on general concepts, dividing the players in working groups, while now the tendence is to individualize of the activities, with programs more personalized and studied on the basis of the data collected by computers. Also the group management, from the coaches side, has changed because the time to work is always less and every match is crucial for the future of the whole staff. The most difficult thing? To understand the needs of the team and to know how to solve the daily problems".
"Among the coaches who I worked with, a thought goes to Corrado Benedetti, passed away after an illness some years ago; to Gregucci, we shared a long time together and now he's working with Mr. Mancini for Italy's National team and then to Novellino, we built a very good relationship based on each other's esteem".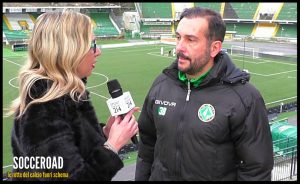 AND ALESSANDRO'S FUTURE?
"After the missed participation to the Serie B championship with Avellino I was left without a team, because the decision was made only in August and all the clubs had already all the people they needed. Now I'm waiting for the right call to get back on track with trainings, matches and all the rest!".
I can only wish you he best of luck!!! See you Ale, I'll visit you soon in your next club!
ALESSANDRO SCAIA'S COORDINATES
Alessandro SCAIA (Umbertide, PG – 20th October 1979) University Degree in Sports Science / Certification as "Professionist Athletic Trainer" by F.I.G.C., released after the Coverciano course / European Diploma in "Physical Training" at the University of Lyon.
| | | | |
| --- | --- | --- | --- |
| YEAR | CLUB | CATEGORY | COOPERATIONS |
| 2005/2006 | PERUGIA | SERIE C1 | BENEDETTI – CARI |
| 2006/2007 | TORGIANO | SERIE D | ORTOLANI – TURRIZIANI – MANCINI |
| 2007/2008 | PERUGIA | SERIE C1 | INDIANI – PAGLIARI – SARRI |
| 2008/2012 | FOLIGNO | SERIE C1 | INDIANI- GIUNTI – DI LORETO -MATRECANO |
| 2011/2012 | CASTEL RIGONE | SERIE D | GIUNTI – QUARTA |
| 2013/2014 | REGGIANA | SERIE C | BATTISTINI – MONTANARI |
| 2014/2015 | GUBBIO | SERIE C | ACORI – BONURA |
| 2015/2016 | ALESSANDRIA | SERIE C | GREGUCCI |
| 2016/2017 | TERNANA | SERIE B | CARBONE – LIVERANI |
| 2017/2018 | AVELLINO | SERIE B | NOVELLINO – FOSCARINI |
translation By Matteo Santuari – socceroad press staff